Unique feature the Agent Profile
At Volindo, we understand that travel agents need to promote their business online, but building and maintaining a website can be a challenging and costly task. That's why we've created a unique feature called the Agent Profile to help you eliminate the need for a cumbersome and expensive website.
With the Agent Profile, you can showcase your business and expertise using photos and short videos. With just a click of a button, you can easily send your profile to potential customers, giving them a firsthand look at the great vacations you can offer.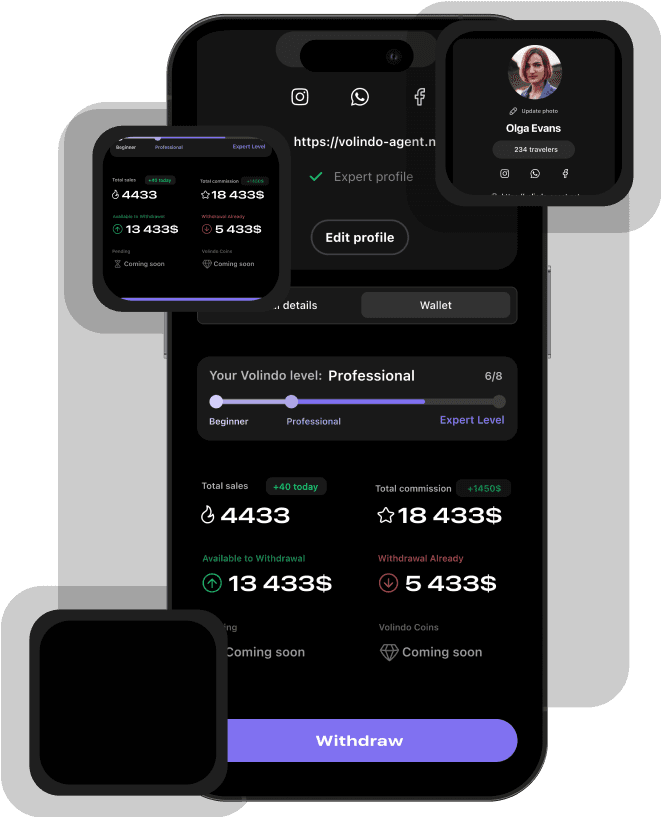 But the Agent Profile isn't just about promoting your business.
It also includes a digital wallet that provides a convenient way to manage your financial balance and analyse your performance. With these tools, you can easily keep track of your business finances and make informed decisions to help your business grow.
At Volindo, we take the credibility of our platform seriously.
That's why we verify each agent profile to ensure that travellers have access to a range of reliable agents who deliver on their promises.
But that's not all.
We also understand that marketing is a crucial part of running a successful travel business. That's why the Agent Profile includes access to a full marketing toolkit, giving you the tools you need to expand your reach and attract new customers.